this time of year the big loads on the battery, after cranking, are lights, heater & wipers. HiFi/radio etc only drains a fraction of what your lights do.

check that the alternator/water pump belt is not too worn and correctly tight - if its loose it the alternator wont provide full charge.

then check that with the engine running, all lights etc off, you are getting 13.5v at the positive side of the battery. if not, then check for 13.5v at the big terminal on the starter motor (careful, moving parts!)

if you have 13.5v there but not at battery, you have a battery cable problem - check for clean connections.
if you haven't got 13.5v at the starter, you most likely have an alternator issue.

if you have 13.5v at the battery, start turning on lights, heater, de-mister, wipers, radio etc. checking the voltage at the battery every time - if it drops suddenly that helps you find where the problem might be.

another thing if all the charging/voltages are ok it could be discharging overnight through the alarm or other accessory.
to test for that look at current flow (amps) at the battery with everything turned off, and then set the alarm. remember to bypass or neutralise the boot sensor as you will need the boot open to read the current at the battery.
if its discharging a new, fully charged battery overnight (say 12 hours) you are looking for a substantial current flow (woody can do the maths!) id say in the region of 5 to 10 amps...
_________________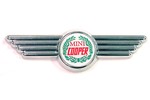 Signature awaiting top-coat and lacquer....